Stainless steel flask
€9.95 €17.50
Take your favourite drink with you
Engraving within 24 hours
Engraving from 12,50 online
Designed by you, engraved in our Lab
Engraving a flask
Fancy a drink on the go? Take your favourite drink with you in this handy flask. Fits easily in your pocket and/or handbag.
The perfect gift for tough men and women!
This flask is made of stainless steel. The size of the bottle is 10 x 12.5 cm with a capacity of 175ml.  
How it works
The design is engraved on the front. 
Not experienced with .ai or .eps files? No problem, upload your design as a high resolution PDF, JPG or PNG. You will always receive a preview of your design after placing your order.
Can't work it out? Feel free to use chat and mail. We are happy to help you!
Read more about how it works here >
General
Materials
Design
Dimensions
For this product, the graduated prices are currently not publicly available. Interested? Please contact us by mail or call +31202442995

Customer reviews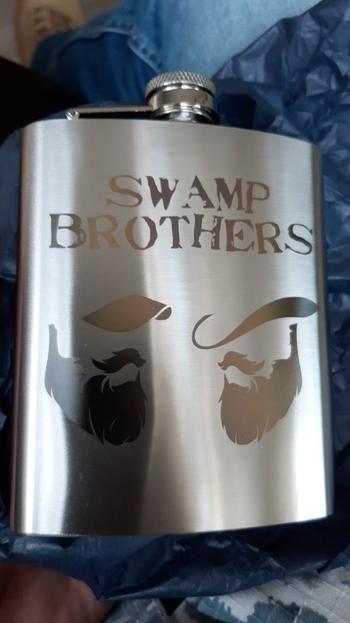 06-18-2021
Super fast and fantastic work
Incredibly fast and really fantastic results. I had 2 hip flaps lasered. The next one! Already at home. Top
Bass V.

Netherlands
06-02-2021
Stainless steel flask
Fast and beautiful delivery.
Anonymous

Netherlands
05-16-2021
Stainless steel flask
Good product, fast delivery. The lazer made the print very sharp.
Anonymous

Netherlands
05-02-2021
Always well served
Customer-friendly and good service
Anonymous

Netherlands