Bread & Plank Mare 55
€42.25
Handmade in Friesland from solid oak

Size shelf excluding handle: 24 x 45cm
Engraving within 24 hours
Engraving from 12,50 online
Designed by you, engraved in our Lab
Engraving a breadboard
Brood+Plank is handmade in Friesland from European oak wood. The boards are oiled with grapeseed oil which gives them a dark color. Engraved within 24 hours.
 All planks are handmade so they may differ from the show model in color and finish. Also a small knot or butte here and there gives this board its robust character. 
We have already been able to make many people happy with the Bread+Plank. This is evidenced by the well-rated reviews. We are very proud of this! To enjoy this board even longer, we recommend taking good care of it. Read more about board care here. 
The Bread+Plank has a thickness of 2.2 centimetres.  
How it works
Your design can be engraved on each side of the wooden board. If you want to engrave the breadboard, click on 'Engrave my board' and upload your design in PDF, EPS, Ai or high resolution JPG or PNG.
Engraving the breadboard starts at €15 (for about 10x10 cm). The price may increase depending on the complexity or size of the design. You always receive a sample and price estimate of the engraving after ordering the board. 
Don't have a design yet? Ask one of our designers for help via the chat. With our passion for personalised products, we'd love to help you!  
Read more about engraving cutting boards > here
General
Materials
Design
Dimensions
For this product, the graduated prices are currently not publicly available. Interested? Please contact us by mail or call +31202442995

Customer reviews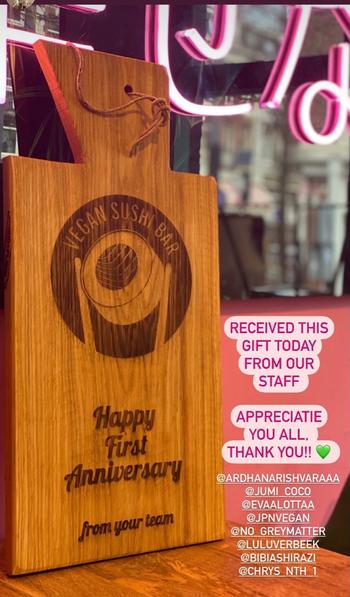 02-18-2021
Flexible
Service was super good. I also found that you were very patient. I made several changes, but the team worked with me, even with the last minute changes. We are very happy with the final result. Thank You
Richard P.

Netherlands
12-21-2020
Fast help and service
Website indicated delivery within two days, which seemed doubtful but it was really there two days later. I also requested information from customer service and they were quick to help. Furthermore, the product is of high quality and a must for anyone who wants to give a unique gift.
Lucas W.

Netherlands
09-07-2020
super service, super product
Perfect help from this team, product quickly ready and in house. Happy with it
Anonymous

Netherlands
08-17-2020
Top service
Drinks board incl engraving ordered. Top service and very friendly
Turner P.

Netherlands